A Story of Contrasts
Since 1914, Madison has grown in size from 30,000 residents to now over 500,000. Many contributing factors play into that growth, including the stories of local community leaders, institutions, businesses and industries. It was with that in mind that we set out to research, inform, compare and contrast those that have stories dating back over 100 years and feature them in this reimagined version.

Businesses and industry feature prominently within and give both a historical context and current contrast as to how Madison's business climate has taken shape over the past 100 years. Also compared to life 100 years ago, the community at large was highlighted in having played a significant role in defining and shaping the city of Madison today. It is interesting to read aloud from the original publication, sections of text that speak of things that today have impacted our lives greatly. Things like the Henry Vilas Zoo which was donated to the city in 1911, we still enjoy today. The philanthropy of the early 1900's is still alive in Madison to this day, with many of the contributions like the Overture Center being highlighted as well within.

Apart from the extensive research that went into creating the narrative for this book, it was also equally important to collect images that helped support the overall theme. Of all the businesses that were featured, we were able to gather high resolution images of their current business and many were also able to provide us with images of their business from over 100 years ago. That was a key component to the contrasting nature and purpose behind publishing this work.

With that said, one can appreciate the idea that everything has changed, but nothing has changed and it's our challenge today which will leave the legacy of tomorrow for future generations to come.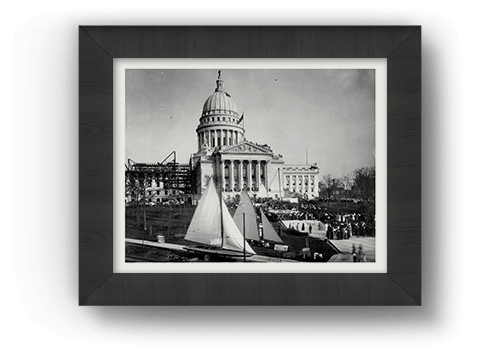 People who speak well of it today we expect will be able to say additional good things about it in the future. Otherwise it must become noted for having squandered its natural and human endowment.